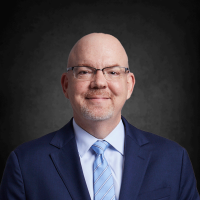 Kyle Ford
Kyle formerly served as a Special Agent with the U.S. Department of Health & Human Services (HHS), Office of Inspector General (OIG), for over 30 years where he was primarily assigned to agency's Tampa Field Office.  Through such time with HHS-OIG, he has acquired a vast amount of investigative and trial experience in complex health care fraud matters.  As one collateral duty, Kyle also acted as a Technical Investigator, where he assisted other Agents in the use of video and/or audio surveillance equipment in support of capturing corroborating evidence.  Although most matters are resolved prior to litigation through a negotiated criminal and/or civil settlement, Kyle is proud to hold the distinction of never having lost a matter and/or defendant that proceeded to federal trial.        
After retiring from HHS-OIG in December 2020, Kyle subsequently served as a contract investigator / expert witness for the Department of Justice (DOJ) on several criminal and/or civil matters that were pending litigation.  Most recently, in May 2022, after a two-week trial, Kyle's investigative efforts and trial testimony helped secure the criminal conviction of a Sarasota pain management physician and a former pharmaceutical sales representative on behalf of the U.S. Attorney's Office, Middle District of Florida.  Both defendants were found guilty of all charges, including conspiring to pay and receive kickbacks and bribes, in the form of educational speaker fees, in return for prescribing a fentanyl medication to Medicare patients.   
Kyle's statistical accomplishments on behalf of HHS-OIG produced well over 150 health care fraud criminal convictions and/or civil judgements, resulting in fines, restitution, forfeitures, settlements, or judgements, totaling over $500 million.  Perhaps his most rewarding and challenging case involved a multi-billion dollar managed care organization known as WellCare Health Plans.  Kyle was the government's lead investigator or case Agent on that matter, which started in June 2006 based on a whistle-blower complaint filed in the Middle District of Florida.  In 2013, after a three-month criminal trial, the matter culminated with the criminal convictions of the former senior executives.  Prior to trial, WellCare entered into a criminal and civil settlement with the DOJ, totaling about one-quarter of a billion dollars.  Of that settlement amount, WellCare agreed to pay over $137 million to globally resolved the civil false claims act complaints filed by four whistle-blowers.  Although Kyle received many internal and external awards arising from the investigative and/or prosecutorial successes in the WellCare matter, the most prestigious was the DOJ's Director's Award.                   
During Kyle's last two years with HHS-OIG prior to retirement, and then as a DOJ contractor, he primarily worked on collection of criminal and civil health care fraud matters in the Middle District of Florida arising from a nationwide investigation known as "Operation Brace Yourself."  The investigation revealed that a Tampa Bay area business owner fraudulently established and then sold over 60 durable medical equipment (DME) companies - or rather, DME fronts - eligible to bill the Medicare program. The scheme further involved placing the DME fronts in the names of straw owners.  By concealing the true ownership of the fronts, other known conspirators secretly gained control of multiple companies.  With such control, those other conspirators collectively submitted over $400 million in illegal DME claims to government health care programs, which included billing for medically unnecessary DME equipment (orthotic braces) and engaging in improper marketing practices that violated the federal Anti-Kickback Statute.  The Tampa Bay business owner that created and sold the DME fronts plead guilty to criminal fraud charges and entered into a civil settlement in excess of $20 million to resolve a claim brought under the whistle-blower provision of the False Claims Act.  As a result of that civil settlement, the former employee who filed the whistle-blower complaint received 23% of the civil recovery as their statutory reward. 
Education
Bachelor of Science, Western Illinois University
Memberships & Honors
Federal Law Enforcement Officers Association (FLEOA)
National Technical Investigators' Association (NATIA)
Executive Office for U.S. Attorneys (EOUSA) - DOJ's Director's Award
Council of the Inspectors General on Integrity and Efficiency (CIGIE) – Award for Excellence
HHS OIG Career Achievement Award
HHS OIG Exceptional Achievement Award
HHS OIG Cooperative Achievement Award
Tampa Regional Financial Crimes and Inspector General Council – Case of the Year Award